Animal Songs for Kids!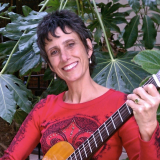 Welcome to the website of
Birdsong and the Eco-Wonders! If your children love animals and music, you've come to the right place! I'm Birdsong and the "Eco-Wonders" are the amazing animals that are the themes of my songs. Check out our CDs and videos, and don't forget to sign up for your free song. I'm so excited to share our music with you!
"These songs are great! They strike just the right balance between education and entertainment…
Thanks for your inspiration, Birdsong!"
– Ben T. (father)
If I Were a Fish
Fun, educational songs about marine animals and their "beautiful world under the sea." From the memorable chorus of "Oxford the Octopus" to the energetic tribute to the world's largest animal in "So big! Blue Whale!", these lively eco-tunes will leave children singing, dancing and learning right to the last note.
Everything is Connected
Celebrate the exciting world of animals, plants and their habitats with these rhythm-packed tunes by Birdsong and the Eco-Wonders. Worms, wolves, gorillas, geese, butterflies and more will wiggle, howl and fly into your imaginations with these educational songs about nature's "great big web of life".
Birdsong and the Eco-Wonders® has a mission:
~ To inspire Earth stewardship through the power of music.
~ To educate children about the natural world with multi-             media that is entertaining, interactive and filled with opportunities for whole-brain learning.
~ To use the lessons of nature to foster belonging, connection, cooperation and communication in children and families.