Press
Songwriter Earns Parents' Choice® Award
Read the article
April 4, 2013
Reviews of our Music
"Birdsong and the Eco-Wonders' Everything is Connected is an engaging collection of nature inspired songs that will prompt young listeners to start thinking about the world around them. Read more…
"Join Birdsong and the Eco Wonders on this magical musical exploration of the lives of butterflies, flowers, wolves, orcas, gorillas, and of course, worms. These rhythmic tunes will have children singing and dancing along as they learn about ecology, the web of life, and amazing creatures of this planet. This CD will inspire children to love and care for the earth — one joyful song at a time. Read More…
July/August, 2013 Issue
"This is a wonderfully eclectic collection of music and genres packed with interesting information and inspiration to love the the Earth and all itsmagnificent creatures…It brings something extra special to the world of children's music." Read more…
"With a simple mission to help kids love the earth one fun song at a time . . . EVERYTHING is CONNECTED is a a great way to get children interested in nature and ready to explore. Read more …
"Buy It! What I really liked about Birdsong, is that all the songs are fun, easy to sing to, and it teaches them how wondrous the world is! From her site, you'll find cool stuff for kids, even more info about animals above the sea! Plus, her songs are being used as teaching tools in the state and county parks in southern California, as well as in classrooms throughout the U.S. . . " Read More…
"I have always been inspired by those individuals who channel their talents and skills into making their passions and dreams a reality–people who utilize their talents to fulfill their ideals and to inspire others. Birdsong is one of those inspiring individuals who turned her love of music, environment, and children into a songwriting and recording career which helps instill in children the wonderment of nature, ecology and the ideal of earth stewardship! . . The songs on the "If I Were A Fish…" CD are educational, and are filled with fascinating facts and information about the wonders of the ocean but they are presented in a way that engages children and inspires them! The music is upbeat, and silly just as children's music should be! Read More…
"There is something very fishy about this album and it's fishy in a fun, musical and edutaining way – a valuable asset for the teacher's tool box."
– John Wood, Kidzmusic.com
"At turns bouncy and silly, and relaxing and calming, this CD is a great balance between entertainment and education . . . Children, parents, and teachers will have a great time on this wonderful musical journey into the sea." Read More…
January-February, 2009 Issue
"[Birdsong] has a clear voice and upbeat manner that engage listeners. If you are looking for something new and fun to play in the car for little ones, this CD is a winner."
December, 2008 Issue
Birdsong and the "Eco-Wonder Kids" sing at the KelpFest, 2010
Read the article
April 30, 2010
Kelp Fest Draws a Crowd
Read the article
April 30, 2010
Birdsong is awarded the Environmental Recognition Award by the City of Laguna Beach
Read the article
April 23, 2010
Tidepool Scene Film Wins Emmy in Children's Programming
Read the article
June 15, 2009
Laguna filmmakers bring home regional Emmy
Read the article
June 16, 2009
Tidepool Film (featuring The Tide Pool Song), Wins Emmy Nomination.
The seven-minute short film, produced by Barnstormer Productions and the Laguna Beach Visitors & Conference Bureau, educates children and adults on the importance of protecting a natural resource, the tidepools of Laguna Beach. Read the article.
May 15 , 2009
"The Tide Pool Song" Featured in an Educational Video!
The DVD, entitled Tide Pool Scene, was released in July, 2008 by the Laguna Ocean Foundation and is targeted for school kids and hotel visitors due to arrive at local tide pools in Laguna Beach, CA. Tide Pool Scene was produced by Del Mar, CA-based Barnstormer Productions and Jeffrey Lehman, host of the PBS travel show "Weekend Explorer." Read the article and watch the video.
July 25, 2008
Birdsong plays her new song I Almost Kissed a Butterfly at the Ecology Center's Grand Opening
Read the article
April 28, 2009
Birdsong and the Eco-Wonders to perform at the OC Marketplace
Read the article
April 21, 2009
Laguna's "newest musical sensation" to perform at the Green Valentine Festival
Read the article
February 12, 2009
Birdsong and the Eco-Wonders CD "IF I WERE A FISH" to be released
on September 21, 2008 at the Endangered Planet Gallery, Laguna Beach….
Read the press release
September 14, 2008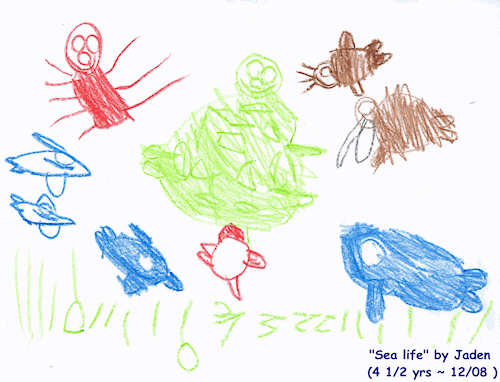 My son Jaden drew these sea creatures while listening to Birdsong and the Eco-Wonders (his favorite CD!). I thought I would send it to you so you could see the art that your music inspired. There's an octopus, sharks, dolpin, fish, sea turtle, sea otter, walrus, and whale (with kelp) – can you find them all?
— Angela W.