Birdsong's Blog
Download Eco-Wonder Certificate for Ocean Stewardship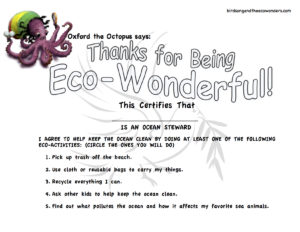 Dear Ocean-Loving Friends,
"Oxford the Octopus"  invites you and to become an "Eco-Wonder" ocean steward. How? Download this certificate, think about it, fill it in, hang it on your wall, practice it and share it with your friends. Email it to us once you complete it at littleonesmusic@gmail.com and we'll give you an eco-wonder shout out on our blog (with your parents' permission, of course). Thank you for joining us and children around the world who are doing something to protect the our oceans and the amazing animals who live there.
Continue to inspire your ocean curiosity when you:
If you'd like to share a certificate with a friend, and save paper, here are two on a page for you to download: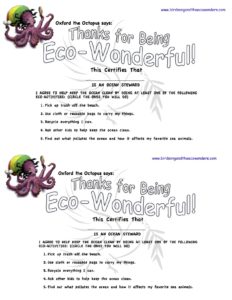 Thank you for being an ocean steward!
With love,
Birdsong