Birdsong's Blog
New Song Release!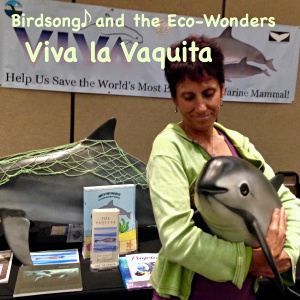 "Viva la Vaquita" is our lively and passionate children's song with an urgent message about the critically endangered vaquita porpoise. Now available for download! 
Learn More about this tiny porpoise and listen to a sample of "Viva la Vaquita". All proceeds from the sale of the song will be donated to non-profits organizations working to protect and save the vaquita, the most endangered ocean mammal in the world.
Help us spread the world about the endangered vaquita!
Join our musical campaign,
"SAVE THE VAQUITA PORPOISE WITH A SONG!"
"Viva la Vaquita" is one in a growing collection of award-winning animal songs for kids by Birdsong and the Eco-Wonders®.