News & Events
Check out our Concerts / Performances
EVERYTHING IS CONNECTED Wins Parent's Choice® Award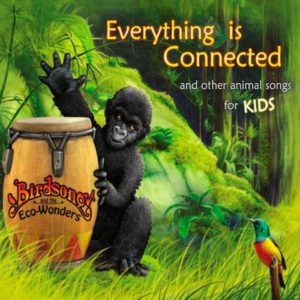 Our new CD, EVERYTHING IS CONNECTED and Other Animal Songs for Kids, wins a Parents' Choice® Approved Award by Parents' Choice Foundation, the nation's oldest nonprofit consumer guide to quality children's media.
Parents' Choice Review: "Birdsong and the Eco-Wonders' Everything is Connected is an engaging collection of nature inspired songs that will prompt young listeners to start thinking about the world around them…" Read More…
Read news article:
Songwriter Earns Parents' Choice Award
Listen to songs from EVERYTHING IS CONNECTED and Other Animal Songs for Kids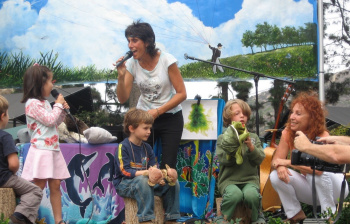 Children in Egypt are singing songs by Birdsong and the Eco-Wonders!
"I wanted to write to you for some time now as I have come across your videos and I love them so much. I live in Egypt on the Red Sea and run a number of projects here mostly around the youth and the environment. Have done a number of workshops on educating the youth on turtles, dolphins, and the dangers to both our land and sea…We always end a lecture with playing either the turtle or dolphin song and, of course, sing and dance along with it. The fun we have is awesome – so thank you for creating these wonderful and educational videos…your creative energy brings so much joy!!!"
– Suzanna Valle Sobhi (KQB Keep Quseir Beautiful)
"The Tide Pool Song" is featured in an Emmy Award winning short film!!
The DVD, entitled Tidepool Scene, was released in July, 2008 by the Laguna Ocean Foundation and is targeted for school kids and hotel visitors due to arrive at local tide pools in Laguna Beach, CA. Tidepool Scene was produced by Del Mar, CA-based Barnstormer Productions and Jeffrey Lehman, host of the PBS travel show "Weekend Explorer." Jeffrey calls "The Tide Pool Song" the "musical driving force" of this film.
"Thank you for the concert in San Juan Capistrano. It was magical to hear you live. I had to work hard to not burst into tears I was was so moved by your performance. You deliver such a powerful and important message so beautifully. Thank you. Our family loves loves your music!"
– Patina Edwards, mother